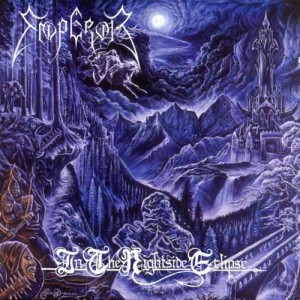 You might wonder why the debut album of the Norwegian black metal pioneers Emperor features in this section. Actually the band is now celebrating the 20th anniversary for the highly acclaimed 'In The Nightside Eclipse', which made a great impact on the early black metal scene.
According to Candlelight Records, the re-release contains a deluxe hardback digibook, a double CD presentation and additional previously unheard bonus tracks.
Apart from re-releasing their amazing debut album, they will even do some selected gigs with their old original line-up, consisting of Ihsahn (vocals, guitars), Samoth (guitars) and Faust (drums). They will be playing the full album.
The release date is set to May 26th, 2014.
Meanwhile, you can watch this video of 'Inno a satana' from Wacken:

Tracklist:
Disc 1:
In The Nightside Eclipse (re-mastered)
1. Introduction
2. Into the Infinity of Thoughts
3. The Burning Shadows of Silence
4. Cosmic Keys to my Creations & Times
5. Beyond the Great Vast Forest
6. Towards the Pantheon
7. The Majesty of the Nightsky
8. I am the Black Wizards
9. Inno a Satana
As The Shadows Rise 7" EP 1994 (re-mastered)
1. The Ancient Queen
2. Witches Sabbath
3. Lord of the Storms
Disc 2:
In The Nightside Eclipse, alternative mix 1993 (previously unreleased)
The Akkerhaugen Tapes 1993 (previously unreleased)
1. The Majesty of the Nightsky (4-track pre-prod. 1993)
2. The Burning Shadows of Silence (pre-prod. rehearsal 1993)
3. I am the Black Wizards (rehearsal 1993)
LTD edition bonus CD:
1. Svartlav-Introduction
2. Saltus-Curse You All Men!
3. Troll-Towards The Pantheon
4. Infer-Ye Entrancemperium
5. Demonical-Night Of The Graveless Souls
6. Helheim-Witches Sabbath
7. Midnight Odyssey-Cosmic Keys To My Creation And Times
8. Silva Nigra-Moon Over Kara-Shehr
9. Necrodeath-Lord Of The Storms
10. Horna-Wrath Of The Tyrant
11. Karpathia-Ancient Queen
12. Ancestral Volkhves-With Strength I Burn
13. Mesmerized-Empty
14. Crionics-The Loss And Curse Of Reverence
15. Taake-I Am The Black Wizards
16. Setherial-Inno A Satana
More:
Facebook