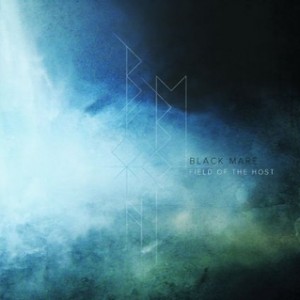 I stumbled upon the work of Sera Timms from Los Angeles, US when I saw that her band, Ides of Gemini, was warming up for Ghost on their US tour.  She also used to play in Black Math Horseman. Later on I found out that she has her own solo-project, called Black Mare. Her first album 'Field of the Host' is due to release February 24th, 2014 by Human Jigsaw Records, and The Crossing will be releasing a limited edition LP of 300 copies, March 20th.
When I first heard Black Mare, the voice of the chanting Sera Timms really drew my attention. In many ways it is radiating a pagan/folk atmosphere, but at the same time it has its own unique and honest approach.
– My intent with 'Field of the Host' was to express something very personal through the re-telling of timeless myths, and by my own symbolic stories within the lyrics. I have tended to write about larger philosophical themes and ideas in my other projects, and Black Mare seems to demand that I strip away the layers of intellect and reason, and allow the songs to be vulnerable, honest, and simple, says Sera.
Musicwise, the band is moving into several subgenres, with a veil of doom which is wrapping it all together into a wholeness. I am not surprised when Sera tells me that her music deals with and explores the human psyche;
– As always I hope that for the listener my music will open up a crack in ones psyche and lead them back to the underworld shadow realm within themselves-a realm that is not generally valued in our society. This is the place where I found my Black Mare songs. Understanding and illuminating this darkness is the only way to wholeness and peace within one's self.
For most of the material on the album my biggest influence was my own experience, and exploration of my own subconscious. Musically, I wanted it to be have the heavily plodding earth bound foundation of the mare, with a fragile ethereal phantom rider pulling her sinuous reins into songs.
After hearing Black Mare, we can really imagine them being a live experience. Sera stated that they want to tour both Europe and US. We can't wait, and are really looking forward to see where the Black Mare will be ridden.
More:
Facebook
SoundCloud