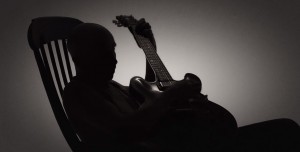 For a lot of people, Dregen is probably most famous for being a co-founder of successful Swedish rock acts such as Backyard Babies and Hellacopters. He sort of played in two of Swedens biggest rock bands. Nowadays he even plays in the band of Hanoi Rocks' Michael Monroe.
In September 2013 Dregen released his first self-entitled solo-album. Probably not the typical music you'll hear about here at BFM, but if you're into hard rock of the mentioned bands, you should definitely check out his album.
Anyways, we must admit we really kicked on his completely fresh video for 'Flat Tyre On A Muddy Road'. The song is not just really cool, but the video is friggin' awesome as well! In the video Dregen appears bald, and to Classic Rock Magazine he explains his baldness to be a result of 'post-traumatic stress syndrome'.