A few week ago we went to the cinema to see the sequel of Dead Snow, a movie we thought was really awesome back i 2009. The first movie was created by a group of friends, that also did the Norwegian low budget cult movie Kill Buljo, which obviously was a parody on the famous Tarantino flick Kill Bill. I've watched both the mentioned movies, and really enjoyed them both, so I kinda had in mind what to expect from Dead Snow 2. The crew behind Dead Snow, received a lot of attention from the first one. It was even nominated to the MTV Scream Awards for "Best horror movie" and the epic category of "Most memorable mutilation", which the first Dead Snow movie had plenty of.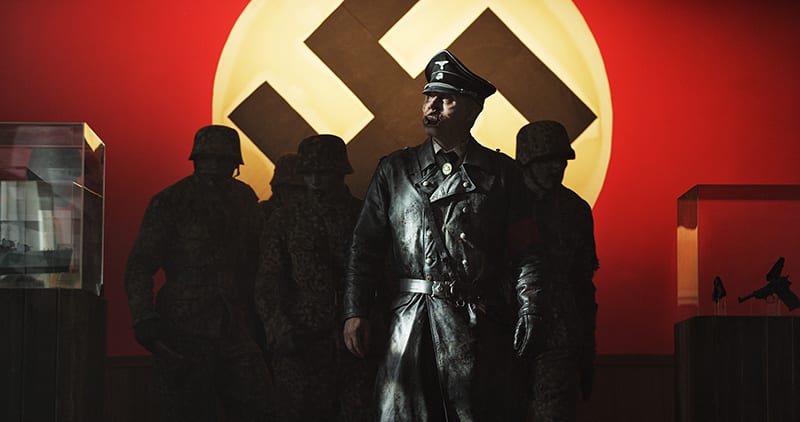 Dead Snow 2 continues where the first one left off. The main character, Martin, is the only survivor from the zombie attack in the first movie, where all his friends were slaughtered on a holiday trip in the Norwegian wilderness. The zombies, with their leader Herzog, is now on their way down from the mountains. Their goal is to fulfil their old German debt, and to conquer the world, as their zombie army is slowly growing bigger.
Since, the first movie, the director Tommy Wirkola has been busy with larger Hollywood productions like Hansel & Gretel: Witch Hunters. This didn't exactly put a damper on our expectations for this movie. We knew that Dead Snow 2 would be a larger production than the first one, but we surely didn't expect it to be this good. It's a cliché that sequels doesn't live up to their predecessors, but I must say that this one surely did. Unlike a lot of other Norwegian movies, this one is even on a par with international zombie movies.
It's not a secret that the crew of Black Forest Magazine are huge fans of darker forms of music. Metal to be more precise. Therefore we had to get in touch with Ørjan Gamst which played Herzog, the nazi zombie leader, and actually has a background in metal music. We wanted to know if his musical interests has formed him as an actor:
Well yes, i think it has. Especially when playing a villain like Herzog. I even had a theme song, Death Walking Terror by Cannibal Corpse, in my head while playing him.
And you have certain metal attitude that often gives you an edge when these sort of characters are brought to life. Also the experience from standing on a stage as a vocalist helped a lot. Does it even make sense? Its hard to explain, but i feel it has helped me alot.
For us zombie fans it's pretty absurd to see how successful the genre has become, with movies like Dead Snow, and series like Walking Dead. And not to speak about all the games. We had to ask Ørjan why he thinks the genre has had its renaissance:
Well, the whole Walking Dead hype is somewhat to blame of course. And since the early 2000 we've had a revamp of the genre with remakes of classics, zombie comedies (Shaun of the Dead, Fido etc.) and so on. The whole zombie niche has gone mainstream. And the horror-guilty pleasure watching zombies getting the wrong end of a shotgun, or the ever popular 'stupid teenagers getting ripped to pieces' still works for me atleast.
We surely can't do nothing but agree with Ørjan, and must say that this recipe works flawlessly in Dead Snow 2. We're not going to spoil anything, but I must say that I haven't seen such a creative use of intestines before. All in all, the movie was really worth the watch, and is recommended for everybody that's into splatter movies. It is obvious that the production was a lot more professional this time, and it was great to see such high profiled actors in this kind of setting as well. Ørjan's character Herzog is probably the most noticable, and his appearance is simply frightful. Ørjan did a great job playing this character, and we will be looking out for him in the future. We can even announce that he has been picking up his music career again:
I just joined a new band, Landmenn, and I'm doing vocals for some new tracks later this month. I'm excited to be part of this project, it's very different from my former band Slogstorm. Its good to be back as a vocalist, I've missed it.
The acting on the other hand, I'll guess I'll just see what comes my way. I never planned a career in acting, but if the opportunity presents itself.. My dream role would be the next Darth Vader, being a star wars nerd. But any villain would be awsome. Fingers crossed, you never know what happens next.
Now watch the trailer below:
)